Clubs & Activities
Extra Curricular Sports Clubs - Autumn Term
We are delighted to share with you the details of the extra-curricular clubs that we will be offering for the Autumn term.
Clubs will start in Autumn Week 3 - commencing 11 September and will not take place during the following dates:
INSET day (Monday 30 October)

Half term (23rd-27th October)

Parents Evenings (Tues 17 & Thurs 19 October)

Year 6 only - Residential Trip 8-10 November
Clubs will run up to and including the week commencing 27 November.
No clubs will take place during the weeks commencing 4 December & 11 December.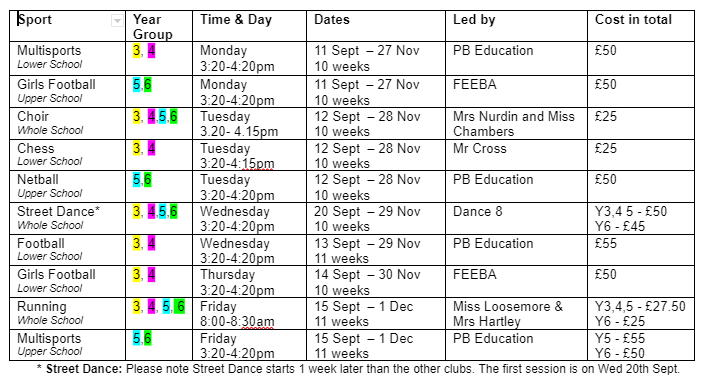 *** Club Bookings on Arbor open on Monday 17th July at 7pm ***
In order to book your child on their chosen club(s) please login into their Arbor account where you will be able to see the clubs available to them under the 'Clubs' section. Places are on a first come, first served basis and clubs will open for booking on Monday 17th July at 7pm and payment will be required at the time of booking.
Please ensure that you select the correct membership for your child as some clubs will have multiple payment options due to the Y6 Residential.
Free School Meal Pupils:
If your child is entitled to free school meals, when booking their space in Arbor, please be sure to select the membership option 'My child is entitled to FSM'. For further details of our
Charging & Remissions Policy, please refer to our website.
Please note within Arbor if you wish to sign your child up for more than one club you may find it easier to do this via the Parent Portal on a desktop or laptop computer as there is currently no basket feature on the Arbor App. You can continue to make payments individually on the Arbor App.
There are a limited number of places in each club and once the allocated number of places have been taken you will not be able to book via Arbor and we will operate a waiting list. If you find yourself in this situation, please complete this Autumn Clubs Waitlist Form and should a place become available names will be chosen at random.
If you need any guidance on using Arbor to book clubs, please click on this link: Signing my child up for a Club on the Parent Portal or Arbor App. If you need any additional assistance please contact the school office.
Every effort will be made to ensure Clubs runs as detailed above. However, the school will take an informed decision to modify the session if the weather is poor, which may involve a move to an indoor classroom. You will be notified if a club is cancelled for any reason.
Once you have paid for your space, please be aware that we are only able to consider a refund in exceptional circumstances, for example a medical reason.
Extra Curricular Sports Clubs - Summer 2023
All Extra Curricular Clubs for the Summer Term are now fully subscribed.
Spring clubs will run up to and including the week commencing 10 July.
No clubs will take place during the week commencing 17 July.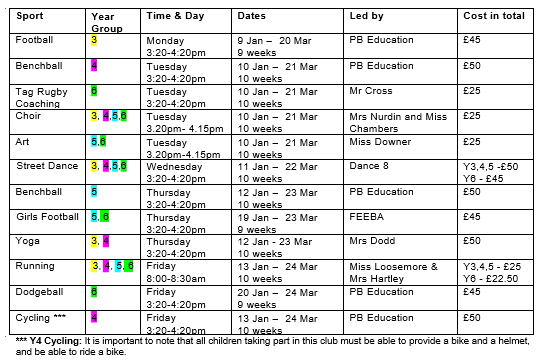 .