Online Safety
Thank you to everyone who attended our virtual Online safety evening on Monday, 14th November. For those who were unable to attend please see the Powerpoint presentation attached below
News - Every fortnight, starting Wednesday, 2nd February. We will be sending out an Online Safety Newsletter with the most up-to-date information to help you keep your children safe online. This will contain all the latest online fads and apps to make you aware of what is happening in the online world. Stay tuned and keep your eyes peeled! #WakeupWednesday!
Computing in the 21st Century is seen as an essential area of learning. It plays an
important role in the everyday lives of children, young people and adults. For parents and carers the internet has opened a whole new world dangers and opportunities. The internet is forever changing and so are the latest online trends. At Hiltingbury Junior School, we teach children how to be safe online at an age-appropriate level, to each year group each year.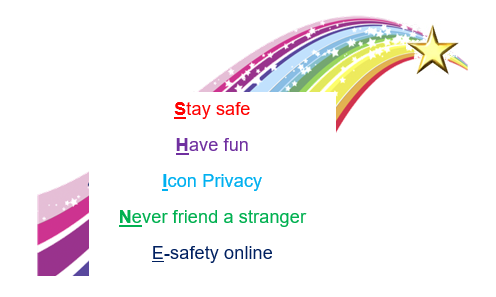 Rules for Responsible Use of Online Technology.
I will take care when using the school IT equipment and use it responsibly.
I will only use websites which are trusted and which an adult has told me to go on.
I will always talk to a trusted adult if I have seen something online which has made me uncomfortable.
I am responsible for the security and use of my usernames and passwords within school.
I will never give out my personal information or home address- privacy is a priority.
I will only talk to people who I know in real life and not make friends with strangers.
I will not use technology to be unkind to people.
I will immediately close any website that I am not sure about and tell a trusted adult.
I will not arrange to meet anyone that I have met online.
School Cyber Ambassadors Introduction
We are the School Cyber Ambassadors we meet regularly to discuss important issues in our school. We represent the voices of all children, from year 3 to year 6, and work hard to affect positive change.
Our Cyber Ambassadors have been trained in cyber safety and act as a friendly point of contact for all other students on any online concerns/worries. Their role is to raise and improve the profile and understanding of online safety at home and school. They will pass on their learning and offer helpful support to their peers through meetings, assemblies and online safety days. By doing this, they ensure that children respect each other online and learn to make the right choices.
Just ask us... Cyber Ambassadors!
For information about keeping safe on websites, apps and games,
How to block, report and tell if you don't feel safe,
And we are always available when needed!
To help you stay in control of the content access by your child, please see the link below to see how to check or place children restrictions on a Netflix account.
New-parental-controls-launched-on-netflix
Advice can be found about the Squid Game on the National Online Safety website- https://nationalonlinesafety.com/wakeupwednesday/squid-game-trending-across-platforms-what-parents-need-to-know
Attached below is also a guide to ensure online safety on Tiktok.
Supporting Parents and Carers:
Below are a number of websites and links to support parents / carers in being aware of the dangers online and ways that you can support your child in keeping safe when using the internet.
| | |
| --- | --- |
| Child Net- Advice, tips and resources for parents and carers, teachers and young people. | |
| CEOP- lots of useful information for parents / carers on E-safety issues. | |
| NSPCC Net Aware- guide to social networks that children use. | |
| Parent info- help and advice for families in a digital world | |
| Safer Internet- UK Safer Internet Centre. | |
| Think u Know- advice from the Child Exploitation & Online Protection Centre. | |