Our School Vision
"Learning, Caring and Achieving Together"
Our school vision, values and ethos
Our vision is for Hiltingbury Junior School to be a community;
where children are happy, curious and inspired
that nurtures in our children the confidence and courage to make positive choices and the ambition to thrive
in which everyone treats others with kindness and respect
that provides an inclusive, friendly and safe environment in which every child can achieve
Our School Community Values
Our school community values are unique to our school as they have been chosen by parents, staff, governors and children. We all believe that these values will support the personal, social and emotional development of every child in our school. We also believe that through working in partnership with the school community we share the responsibility together in supporting each child.
Our Community values are :
Respectfulness

Kindness

Honesty

Equality - Means that everybody is treated fairly, and that we embrace and celebrate our differences at Hiltingbury, in our community and across the world.

Resilience - Building our resilience means being aware of strong emotions so that we are better protected in the face of smaller, everyday incidents, and better able to withstand, manage, and recover from difficult situations. To help us be resilient, we use good problem solving skills, we build independence and have the courage to ask for help when we need it.
We strive to share, encourage and model our values with our children to prepare and support their development at Hiltingbury and for their future.
Our Learning Values
Here at Hiltingbury, our passion for developing the learning skills of our children is at the very heart of our curriculum. This ethos is embedded throughout the school and is reflected in the positive and passionate learning behaviours that our children display. Each and every member of our dedicated teaching team believe in and drive our 'WECARE' learning values, which are carefully nurtured throughout our children's journeys at Hiltingbury.
WE CARE Learning Skills Working Together, Enthusiasm, Creativity, Ambition, Reflection and Enquiry
It is these positive and inspiring learning values that provide our children with the foundations they need to succeed: ensuring that each child embraces challenge and develops the desire to grow as learners. Our inclusive culture means that every child is supported to do this, nurturing their self-belief and determination to make strong progress.
The commitment of our staff, to care for and provide the best possible education for our pupils, shows no limits.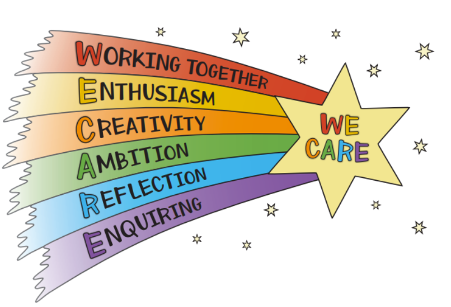 This, along with the support of our parents, makes us all proud to be members of the Hiltingbury community; where we believe that every child can and will fulfil their potential.