P.E, School Sport & Physical Activity (PESSPA)
Welcome to the academic year (2022-2023). Please read below to find out about all things sport-related happening in Hiltingbury Junior School.
Inclusion Day - January 2023
"This day is awesome!"
"I've loved trying these new activities."
These were just a couple of the comments from children after this year's Inclusion Day, which took place on Friday 20th January. Taking part in a plethora of different physical activities, including parachute games, archery, golf, water-based races, football and airtrack, the children thoroughly enjoyed their day off normal curriculum immersed in these different activities. Hosted by Personal Best Education, who run some of our extra-curricular sports clubs, as well as some Year 9 Mountbatten School Young Leaders, the children were able to experience different activities that perhaps they had not tried before.
One of the principal aims of this day was for children, trying out new activities for the first time, to develop their ambition skills. As staff, we were really impressed to see children throwing themselves into activities, not minding if they made mistakes, supporting their peers and trying to improve on their performance – all of which are invaluable qualities.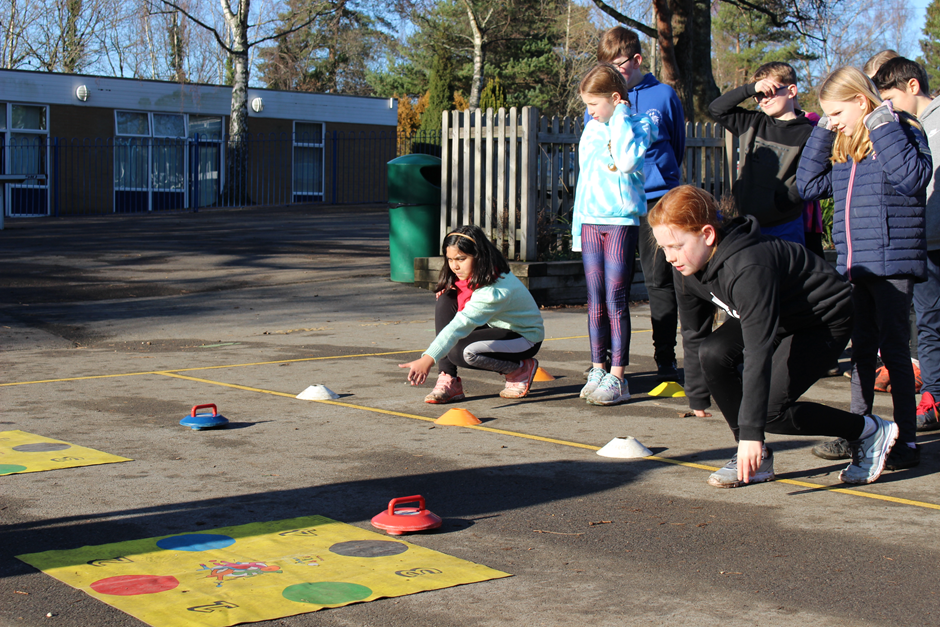 Girls' Winchester Inter-School Football League Match - October 2022
On Thursday 20th October, Hiltingbury's Y5-6 girls' football team played their first match of the season against Knightwood, at home. For some of the team this was their first ever competitive football match! All of the girls performed brilliantly, showing great teamwork, resilience and sportsmanship.
The match finished 2 - 2 after two brilliant goals from Cara. Unfortunately, the HJS girls conceded a last-minute equaliser just as the final whistle was about to be blown, but that took nothing away from their energetic and determined performance. Well done girls! I can't wait for the next match after half-term already.
Boys' Winchester Inter-School Football League Match - October 2022
On Thursday 13th October, Hiltingbury's Y6 boys' team played against Knightwood in the first competitive league match of the season. After conceding early in the first half, the boys showed great resilience to get back into the game just before half-time with an equaliser from Seb. In the second half, the boys really pushed on, showing great drive and determination to score the winning goal, which they did mid-way through the second half. A very tight, opening game of the season finished 2 - 1 to Hiltingbury. Well done Hiltingbury - a great win to start the season.
Commonwealth Games Legacy Event - October 2022
Here are photos of eight year five and six children enjoying an afternoon at Kings' Secondary School, participating in the Commonwealth Games Legacy Event. The children enjoyed an afternoon of various Commonwealth Games activities, including rhythmic gymnastics, archery, squash, boccia, netball, boxing etc.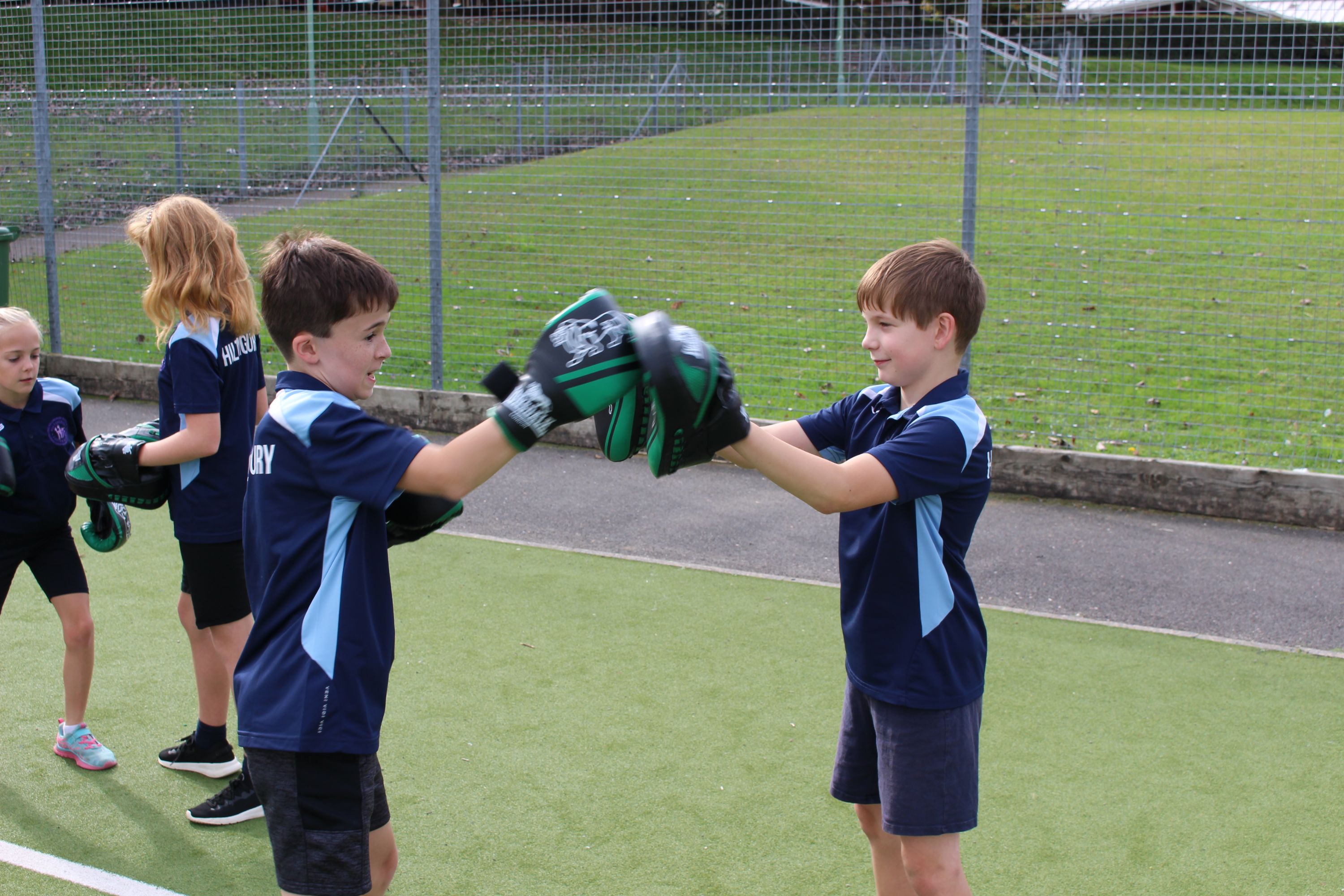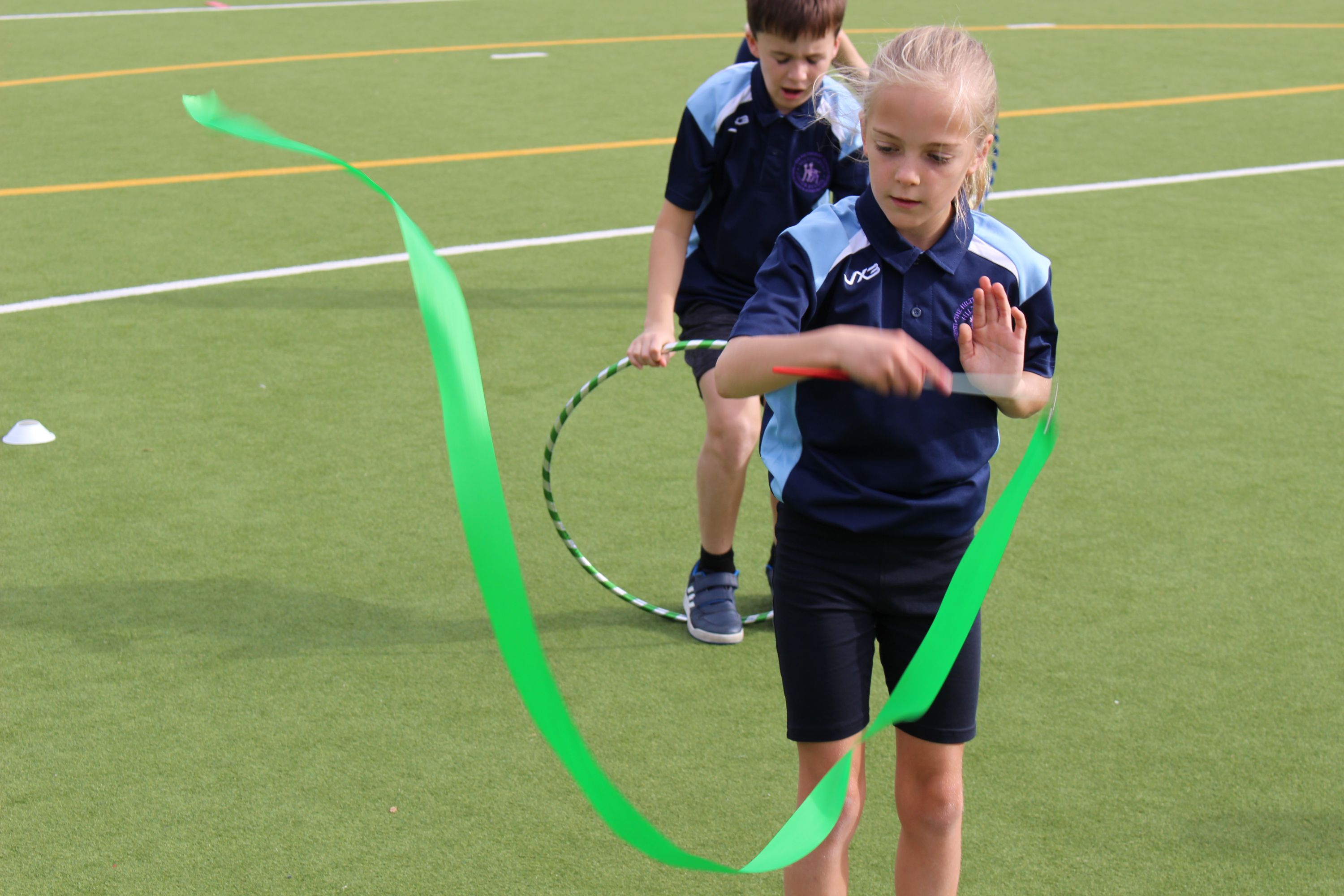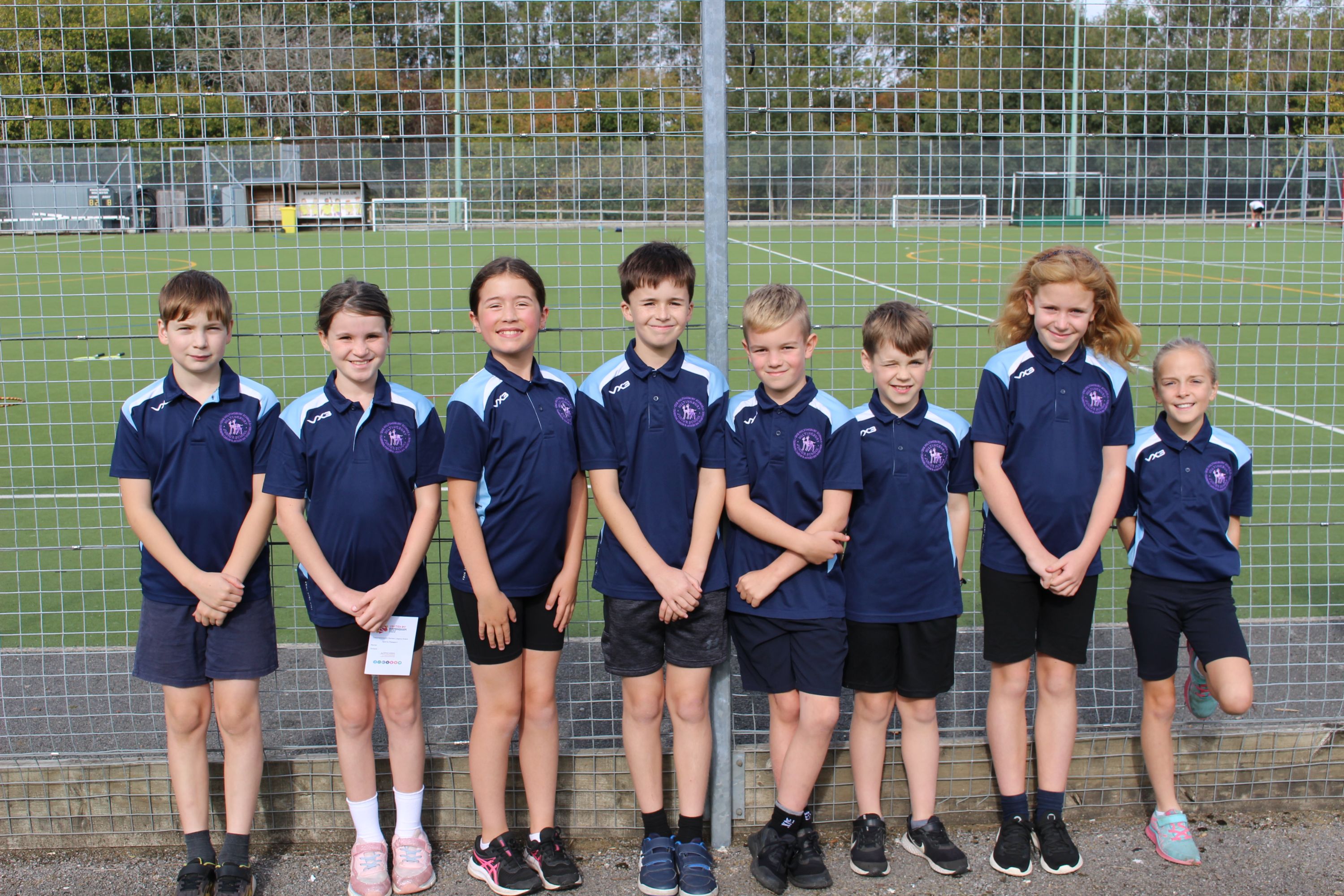 Cycle To School Week - October 2022
Across Hiltingbury Junior School, we participated in Cycle To School Week, encouraging as many children (and families)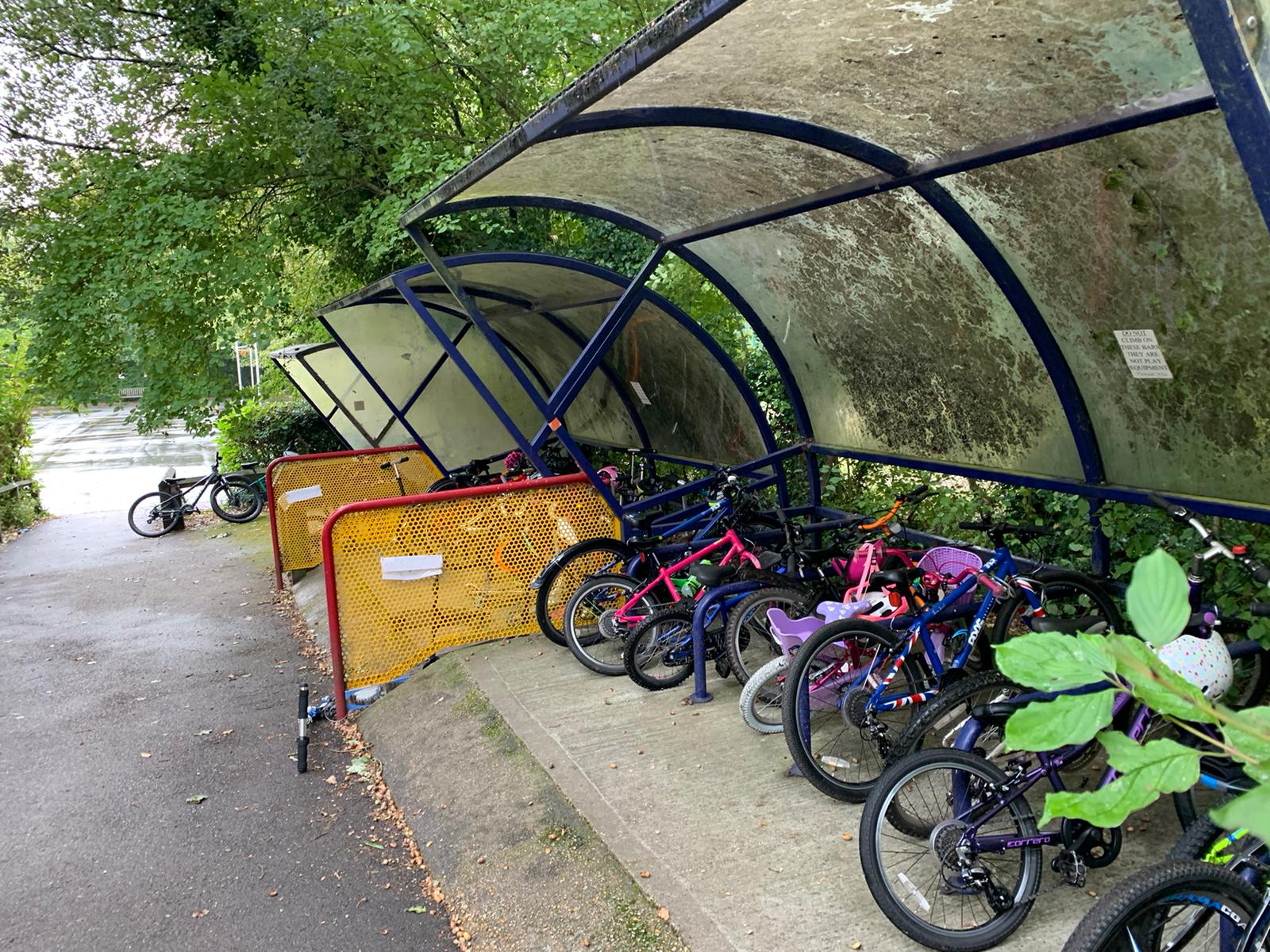 to cycle, scoot or walk to school. The following data shows how many children, this week, walked, cycled or scooted to school:
Average across the school: 74%
Average in lower school: 67%
Average in upper school: 80%
In some classes there were over 90% of children who were actively travelling to school!
Welcome to a new academic year (2022-2023). Please read above to find out about all things sport-related happening in Hiltingbury Junior School.
---
---
---
---
---
---
Eastleigh Sports Awards 2022 Winners
On Monday 9th May, Mr Wright - P.E Leader - attended the Eastleigh Sports Awards at The Hilton at The Ageas Bowl where Hiltingbury Junior School had been nominated for School of the Year alongside Merdon Junior School and Toynbee. Little did he anticipate that later that evening, we, as a school, would be victorious!
This award recognised the huge journey we have gone on as a school in ensuring as many children as possible are given opportunities to participate, and enjoy, sport and physical activity at their level. As he said in the acceptance speech, it is a huge team effort and relies largely on the children's enthusiasm for these projects and innovations.
He was very humbled to be nominated for this award, let alone to win it. We as a school are passionate in using sport to support children's wellbeing. Listening to the likes of Francis Benali MBE and Lou Gittens during the evening, he was inspired to provide more opportunities to our children next year and beyond.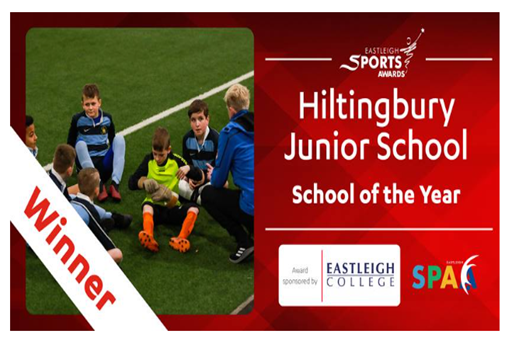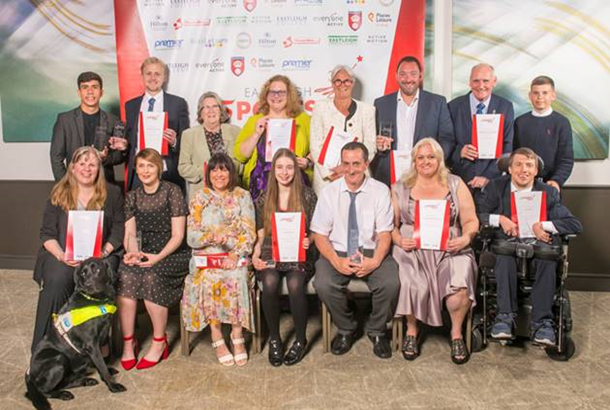 Hiltingbury Junior School achieves the School Games Gold Mark Award 2021-2022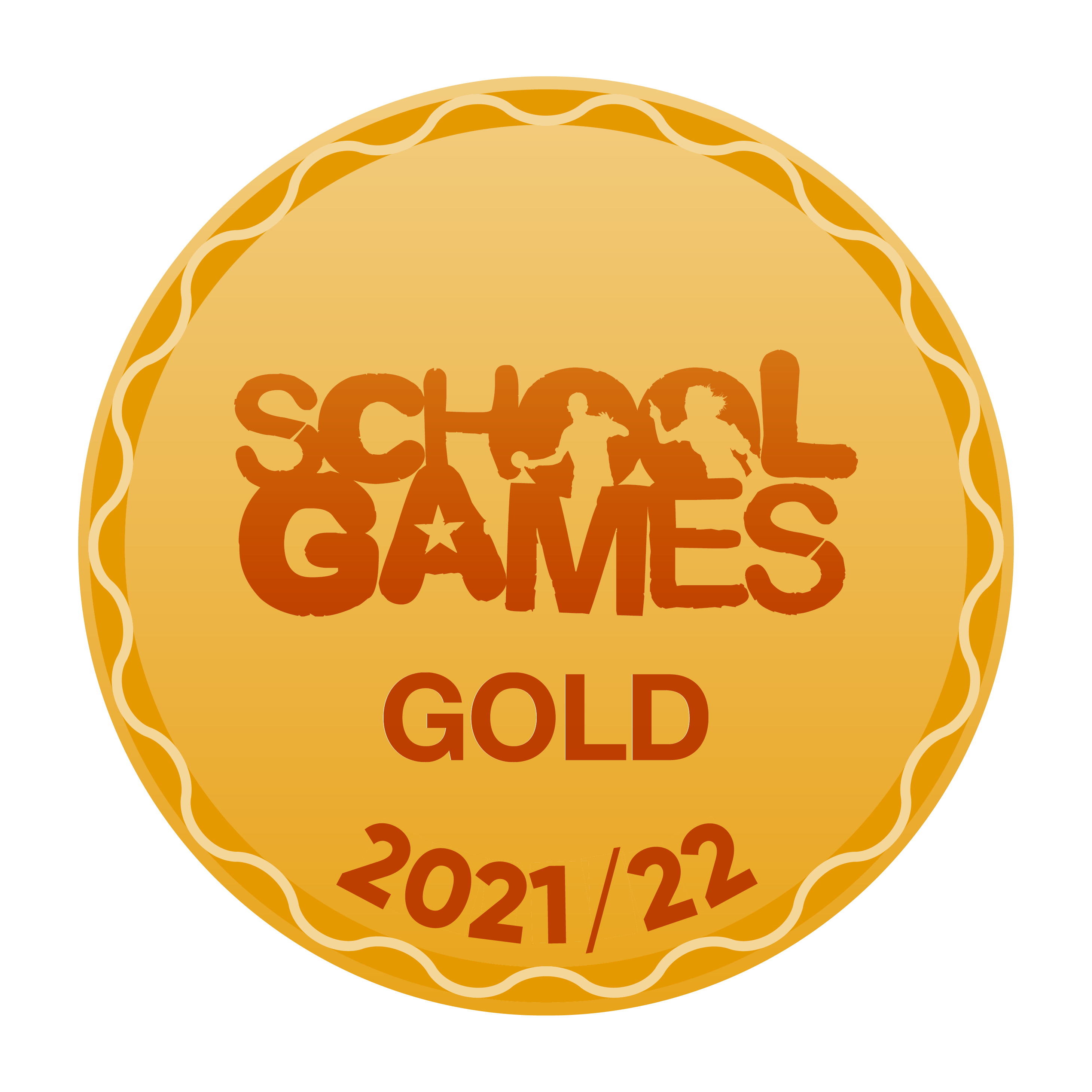 We are delighted to announce that we, Hiltingbury Junior School, have achieved the School Games 'Gold' Mark Award for the 2021/22 academic year.

The School Games Mark is a Government-led award scheme launched in
2012, facilitated by the Youth Sport Trust to reward and recognise school's engagement (provision and uptake) in the School Games against a national benchmark and to celebrate keeping young people active, and we are delighted to have been recognised for our success.
We are extremely proud of our pupils for their dedication to all aspects of physical activity and school sport, including those young volunteers, leaders and officials who made our events possible. We are committed to using the School Games to try and engage those young people who haven't previously been active or represented our school and to try and ensure that all our students have a positive experience and want to try out new activities beyond school too in our community. We believe in the power of physical activity and school sport as a school and give opportunities to those young people that need it most either as a participant, leader, official or volunteer.

As part of our application, we were asked to fulfil criteria in the areas linked to the five School Games outcomes and we are pleased that the hard work of everyone at our school has been rewarded this year.

A special thanks to everyone who has contributed to this: children, parents, staff.
We look forward to applying once again in 2023!
Mr Wright
P.E Lead
Sports Leaders
At Hiltingbury, we have an enthusiastic group of Sports Leaders from across the school who are keen to improve P.E, School Sport and Physical Activity (PESSPA) across the school. Sports Leaders apply at the start of each academic year by writing a letter of application stating why they think they would make an excellent candidate for the job and most importantly, why they want to be one!
Sports Leaders help to organise and lead events such as Sports Day, Inter-house Sports and give opinions on what they would like our PE and sport provision at Hiltingbury to offer in the future.
In addition, our Sports Leaders lead playground games and activities each lunchtime for children to enjoy, increasing the amount of physical activity they are doing. They lead games and also look after the P.E equipment. This role develops important values such as friendship, respect and kindness as well as building their confidence and communication skills throughout the year.
The children play an invaluable role in promoting a healthy lifestyle amongst their peers and are keen to support their peers in getting enough physical activity.
Our Sports Leaders are:
Passionate
Considerate
Kind
Respectful
Inclusive
Creative
Motivated
What our Sports Leaders say about the role:
"I enjoy spreading my love of sport with other children."
"We love finding new, creative games for children to play and enjoy."
"The role has helped give me more confidence.
How Can Parents Support at Home?
Ensure your child is always present with the correct PE kit (Hiltingbury shirt, shorts, jumper and trousers are allowed in the winter). Regardless of the timetabled day, kit should come in on a Monday and go home (to be washed) on a Friday. Having a kit in all week allows greater flexibility with weather and other aspects that could lead to a change in timetable.
Encourage your child to be physically active outside of school. Whether that is through joining a sporting club, running or some other form of physical exercise. Establishing this good practice early will help them to make physical activity part of their daily/weekly routine and help them to live healthier lifestyles.
Always share any sporting successes outside of school so we can celebrate them in school too e.g. scoring a hat-trick in a weekend football match or achieving a belt in karate or moving up a lane in swimming. We love to hear about these sporting successes and will celebrate them in Friday's Celebration Assembly.
How we can support you at home
Below is a range of online resources suggested by Energise Me (a partner in the Hampshire School Games) that include ideas and guidance on how to be fit and healthy in and around the home.
Websites